On the 16th of December 2018, Starfire uploaded a widely ignored video that is still part of why some Juice WRLD fans bash her to this day. The video was misogynistically ignored due to claims of her clout chasing, but if you actually watch the video, that's not what's going on here at all. She exposed the everliving shit out of Juice WRLD and if it weren't for Interscope this shit would have probably ended his run before Death Race For Love even came out.
Quoting Starfire, starting at 1:34, I have transcribed the following:
"Problems really started when the label wanted to name his album "Fuck You Bella". That's his ex girlfriend, the one that the Lucid Dreams song is about. Like, that song was written back when he was a senior in high school, and so, you know, I asked him about her, I was like "who is this girl, you know, like, what happened? I want to know the backstory, you know, I was curious. He told me she's some
17 year old girl, that they dated for a couple years.
And I understood, you know, I was like, okay, I've had a couple relationships that were over a year long, like, you know, shit hurts, I get it. So... me and her followed each other on Twitter, then she messaged me, and Jarad told me that she started these rumors that he raped her. So, I asked her, because she was trying to get in contact with him, and I was like "why are you trying to get in contact with somebody that you said raped you?" and then.. this is what she sent me.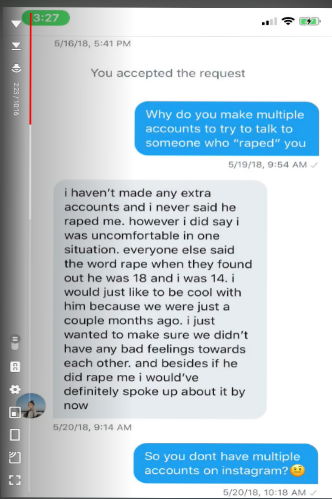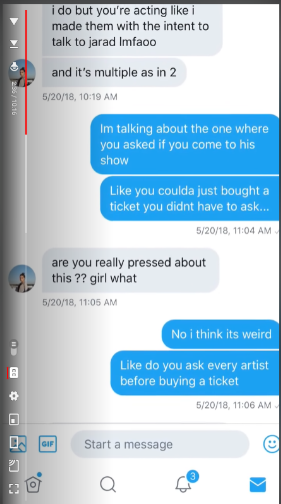 (Video cuts back to Starfire talking)
"So yeah, I did tell him that I hated him, I told him that I thought he was a bad person, you know, because I don't stand behind these eighteen, nineteen, twenty year old men fucking with thirteen, fourteen or fifteen year old girls. That's crazy, like, there's such a big, like, difference, like in your head with maturity, with your innocence level, with things that you're exposed to, and like, in my opinion that's just really fucked up, and I don't stand behind that at all. I was already dating him at this point. We were
months
into a relationship, and I was freaking out, because I was like... "ok, like, do I not even know my boyfriend? Like, who is this guy? Like, do I not know you at all? Because he was lying, he tried to tell me that she was lying, but I was like, bro, no, cause I went through her like, Twitter, I went through her pictures, I started you know, like, girl-mode, I started stalkin' shit, and I've seen pictures of them together, they're still there, they're still on her Twitter.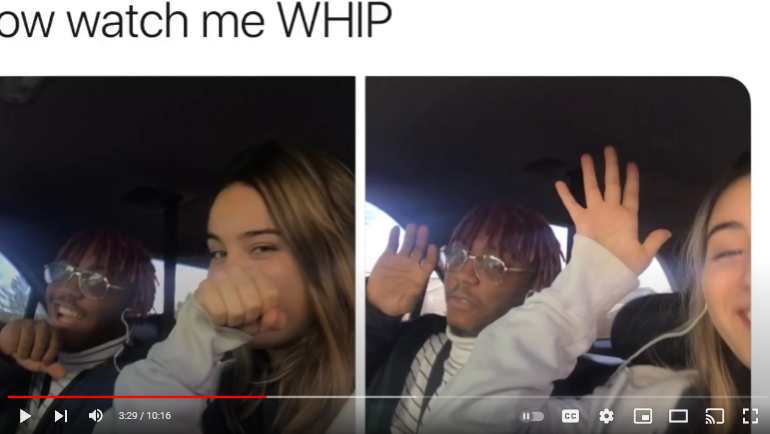 This video is a huge exposé on Juice WRLD along with his label for taking advantage of young listeners' parasocial relationship with Juice WRLD and primarily aiming their marketing at people with mental health and drug issues.

Misogyny and the pockets of record labels are the only reasons this video were ignored. I listened for a really long time and it shocked me to find this so much later on, because with the social climate at the time along with how so many of his lyrics were just straight talking shit to women in his life, mainly a specific woman who was actually a victim of his, I'd have thought the video would have gotten more attention.

It was a dark reminder that things have not come as far as it seems sometimes and that many people's morals, especially if they've got money, are scarily easily disposable.


Don't forget this.
Goodbye & Good Riddance is mostly composed of songs by an eighteen/nineteen year old who dated a fourteen/fifteen year old and the original name of the album was literally a fuck you to the girl he victimized.


Shame on every label, artist, family member and friend who turned a blind eye to his disgusting behavior for profit. Fuck the industry.