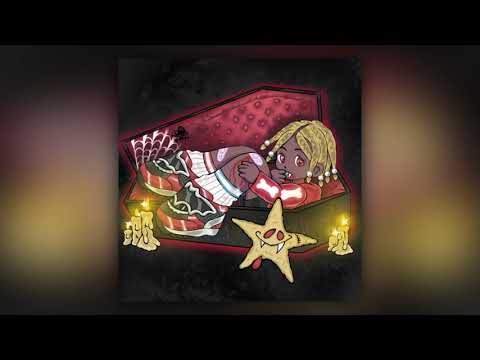 ---
Diamondsonmydick started off the third quarter of 2021 strong with his first project of the year, Bloody Mary. The 11 track mixtape, executively produced by Playa$in, features expected collaborator Cartier God and is all in all a consistent release from the Vampstar Records founder.
Track 1: Blood Rage
A VERY strong start to the project, Blood Rage features an instrumental in the Trippie-Red inspired style of "rage beats". During my research on this recent phenomenon, it became clear to me that Leakedcx users despise these types of instrumentals. The reasoning behind this is unclear, perhaps a mix of depression and hating things that sound good? We can only guess as to the reasoning of these psychopaths. Anyways, the song features a solid performance from DOMD, with the chorus standing out as an example of one of his less used unique flows. Rating: Could have been longer but I think it was still pretty great.
Track 2: Blood Rain Boyz ft. Cartier God
Cartier god delivers an (as always) impressive performance on the second half of this track. It is refreshing to hear him on Playa$in's own special style of production, a stark contrast to pretty much the entire rest of his discography- although Cartier uses an incredibly varied bouquet of beats, I don't recall hearing him on any similar ones before. DOMD delivers a solid verse to link into Cartier's as well.
Track 3: DOMD Bingo
To understand this song, we have to understand the phenomenon known as the Reptilian Club Boyz reddit. RCB was a group consisting of Diamondsonmydick, Hi-C, Cartier God and multiple other performers. They broke up due to internal conflicts earlier this year, which led to some discord among members of the group's fanbase. Many DOMD haters emerged from the cracks, and to say they are devoted would be an understatement. At any given time, you can visit the RCB reddit page and scroll through a wall of posts making fun of and hating on Diamonds, ranging in quality from funny to psychopathic. This brings us to
Figure 1: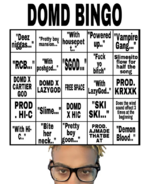 It would be a safe bet to say that the creator of this post has not heard much other music, especially in the genre of popular rap. The only reason DOMD's reused lyrics stick out to people is that they are actually interesting, compared to songs from contemporary artists revered by many such as Lil Uzi, who works the same monotonous (i have a gun) (i do a drug) lyric into every third or fourth line. Were DOMD rapping about such trivial pursuits, it is likely that his repurposed lyrics would have gone unnoticed forever.
Anyways, the song DOMD bingo, as well as being a standout track from the mixtape, does not complete the DOMD bingo sheet- showing the haters that it's well within Diamonds' capacity to put out songs without any of his music's tropes. Rating: favorite song on the album.
Track 4: Juiced Up
This song is my least favorite on the album, but still enjoyable to play once in a while. I am not a fan of the beat, it reminds me of naruto for some reason and i wish there was some bass to it.
Track 5: Blood Rave
Not to be confused with the now deleted song of Domd's "Blood rave" (Which sampled Deftones), this track features an upbeat instrumental