I'm A Trash Star Too
Written by: jackndavidyuhh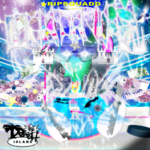 It took me a really, really long time to get into Bladee, cloud rap, and that whole leg of the underground rap scene. I couldn't get behind the vocal deliveries, the rough mixes, the disregard for songwriting traditions. I thought Bladee sounded bored, uninterested, and lazy.
Icedancer
has all of these things that I used as counterpoints to the Drain Gang collective and this sound as whole, and it's become one of my favorite records I've heard in many years.
Why?
To start with, some of those things I nitpicked him for are just straight up not true. I've come to find Bladee is one of the hardest working, widest reaching, consistently influential members in the rap community. Your favorite spitters are listening to Bladee, they're just not telling you that. Alongside his work helming YEAR001 and Drain gang, he's also helped pave the way for independent labels, collectives, and creatives, spawning dozens of cloud rap collective clones (Ivvy league, Plugg, Reptilian Club Boyz, etc). He also offers a compelling "sigma male" approach to rapping, a refreshingly introspective and gentle change of pace from many of rap and cloud raps contemporaries.
As far as the rest of my nitpicks go, they remain, even for Icedancer, but my feelings on those nitpicks have changed.
The rough mix (it's not even bad, just clips) across this record comes across as endearing now. Having had a quarter-life crisis entirely centered around the idea of creative expression and the beauty of DIY, the raw energy the mixes bring to the very literal definition of a mixtape (a tape of mixes).
Bladee offers so many simple yet thought-provoking prods to the listener to pay closer attention. The lyrics of "Mallwhore Freestyle" address a unique perspective on shopping therapy and self-worth entwined into goods and daily expression. "Side By Side" is heartfelt enough that I'd be comfortable singing it with my future wife at our wedding (during the reception of course, so we can get lit).
It's just some of the wonderfully raw, introspective, and the purposefully ignorantly blissful journey
Icedancer
offers; there's so much to explore here.
But you really don't have to explore much of anything to have a good time here. If this sound clicks with you, then the songwriting should have no problems worming its way into your subconscious. I frequently find myself mumbling "Mission Impossible, Tom Cruise" or "I'ma Mallwhore and my Prada looks like Tom Fords" or "I fucked uuuuuuuuupp".
The music has stuck with me, and much more intently and wholly than I thought it would, with its glistening, frost-bitten, glitchy production and focus on fun.
And that's really what
Icedancer
is: fun.
Bladee and ripsquadd manage to take some dark, unforgiving song topics and give them bounce, life, and joy.
It has issues. Again, the mix isn't done, and frankly, a couple of the latter songs on the record are just boring and feel like filler.
But the amount of this album I not only like but whole-heartedly love is really impressive. I think if Bladee had trimmed just a couple off this (and mastered it) he'd have an undisputed classic.
To me it's a classic with issues, but everyone has issues.
We're all trash stars at the end of the day, right?
Favorite Tracks:
Mallwhore Freestyle, Side By Side, Jaws, Topman, Be Nice 2 Me, Waster
Least Favorite Tracks:
For Nothing, Feel Like