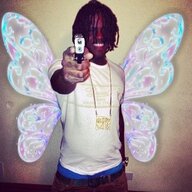 💩👦🏻
Middleman Required
Verified
Jan 29, 2021
6,060
3
15,602
908
yes i'm the one that needs to leave, not the user who's sweating over a summrs song. last time i checked anyone can reply to report a scammers, not just admins.
not going over this one again i've already addressed but your pea brain can't comprehend.
i think the price made it obvious he was joking and if you couldn't see that, that's on you. you said it yourself, incredibly unrealistic.
That doesn't really mean anything lol, don't blame him, I don't wanna imagine how you behaved in the parts you didn't screenshot, if you're acting this entitled (for the second time may i remind you) over a $60 song. it's like when you get interrogated, you don't say anything, doesn't mean you're guilty.
maybe make it more apparent before crying about how he promised you a replacement/refund he in no way had to do.
you're only saying the let the mods review because you haven't got the answer you're looking for from anyone. i have not seen anyone agree with you.
i think you should stop buying music. or atleast be market banned, as this is atleast your second time stunting like this.
btw anyone found cheap barter 6 vinyls anyway them shits expensive asf